It's a good idea to create some basic instructions for your customers so they know what to expect after purchasing. This actually accomplishes a few things. First, Etsy requires digital listings to have at least one file to download. Secondly, it's a good idea to thank the customer and give them some basic instructions anyway. Third, customers can't review your shop in Etsy until they have downloaded a file. Note: That third reason is so important when a customer tries to review and can't figure out why Etsy won't let them. Check to see if they've downloaded the instructions file and tell them to do so.
A Thank You Along With Basic Instructions
I recommend creating a PDF file with some "thank you" text in it as well as some basic instructions letting the customer know that they will be receiving an email from Templett with an access link to their template. Since you can create detailed instructions for your templates right in Templett, I'd use this instructions PDF as more of a general outline on what they can expect.
You can actually create the file right in Templett and save it as a PDF to upload to your listings. This allows you to easily make changes to it if you need to. You can make it any size you want but I'd recommend 8 1/2″ x 11″ (or A4 if you're outside the US) so customers can easily print it if they want.
Example PDF
Here is an example that you can use as a starting point to make your own.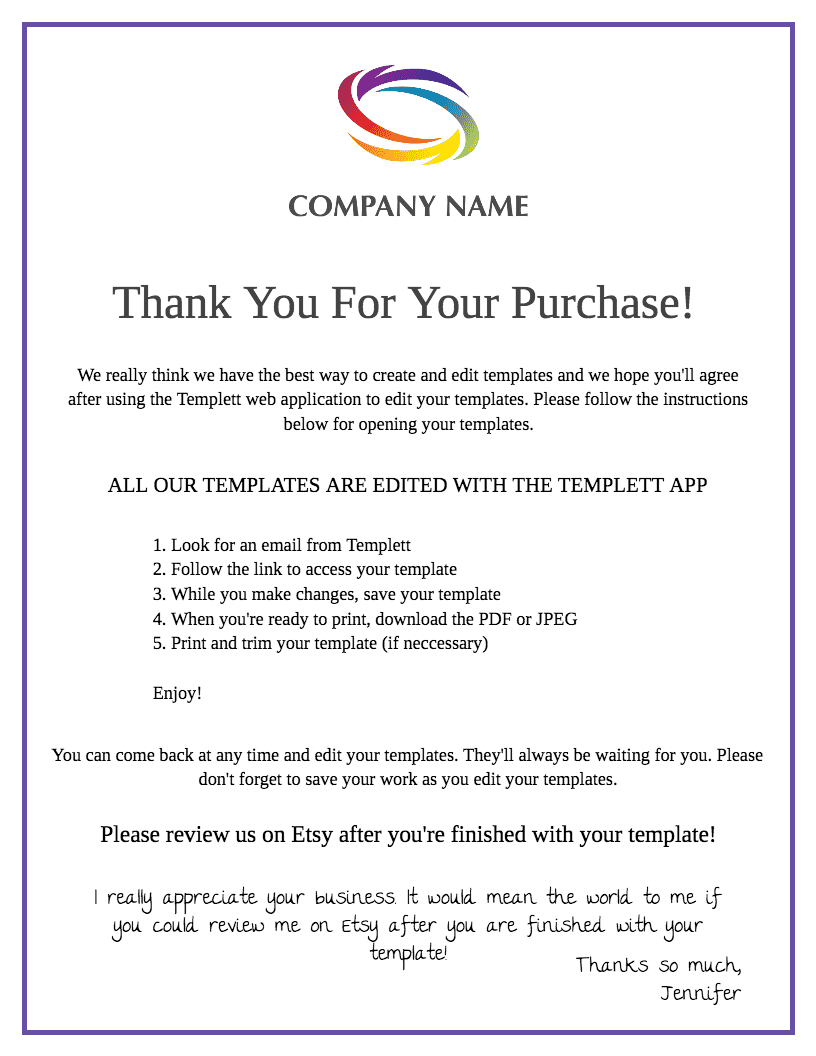 Encourage Customers to Download This File
Remember, customers cannot review your shop (on Etsy) unless they download the file. Etsy just doesn't give them the option. Most customers won't even know that, even if they want to review you, so it's important to encourage them to download your instructions file. I'd recommend naming it Instructions.pdf. This will automatically encourage them to download it.